Disabled Facility
This was the trip that I think everyone was secretly dreading the most.  On Tuesday, Nicole and I tagged with a few other Young Life folks to visit a facility for the mentally and physically disabled.  What we found was confusing, heartbreaking and powerful.
The sights and sounds and smells are immediately overwhelming.  It's hard to not be a little tense when you are greeted by a slightly crazed looking youth who is covered in dirt and smells badly.  We had been warned that the first time you visit this place, you shouldn't stay longer than a couple of hours.  It's too much all at once.  That proved to be quite true.  But for the short time we were there, we were able to observe the facility and bring some comfort to these poor, neglected people.
First of all, this is not just an orphanage for young children.  Disabled people of all ages who have been abandoned by their families stay here.  Some of the saddest cases we saw were elderly folks who were suffering from mixtures of mental and physical problems.  There are also people who are mentally completely fine - but suffer from a disability, like a deformity or other impediment.  They are forced to live in this facility, surrounded by the mentally disabled, with no outlet to develop their own, healthy minds.
It was amazing to see how these people lit up just to see us.  They were so simply satisfied - most would just sit there and play with a small stuffed animal or blow bubbles, grinning from ear to ear.  We were told that we are the only people that visit that orphanage and actually spend time with the patients.  In other words - nobody else cares.  It's a government run facility, and as such it runs as cost-effectively as possible.  That means no one helps kids to work through their disabilities and most of the patients are virtually wild.  
The woman who took us to the orphanage had given this guy a Russian-to-English book several months ago and he was proud of himself for being able to read sentences in English.  He has a mental problem but no one to work with him.  With a little help he could be so much further along.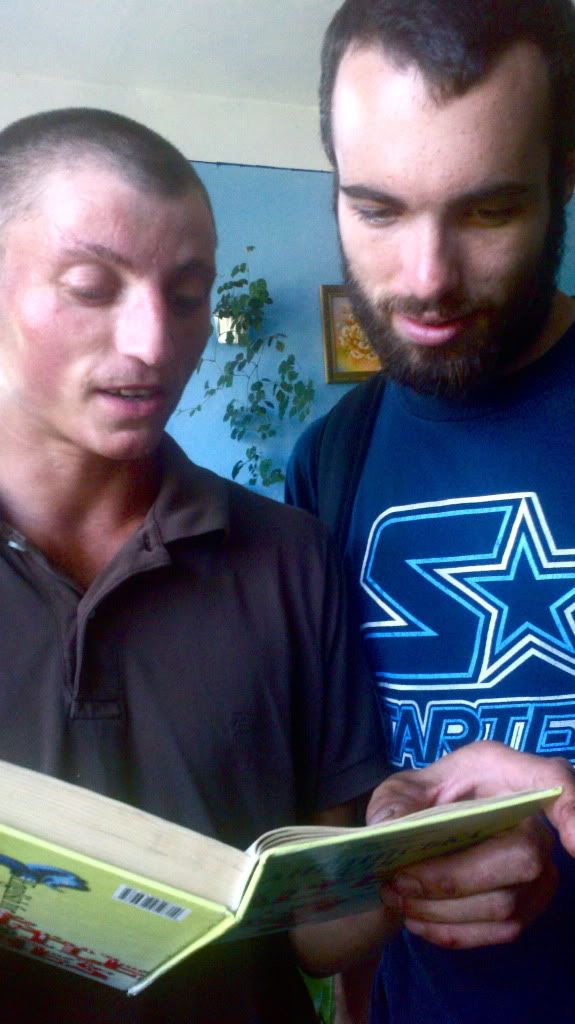 Sanitation is terrible - the kids wash their hands under running water without any soap before eating meals.  They only get to shower once a week, even during the hot summer.  The staff is caring and considerate, but far too small to see to all of the needs.  We saw kids with open cuts and gashes, black eyes, and shabby splints.  Most are dressed poorly and all of them sleep on thin mats draped across a wire frame bed.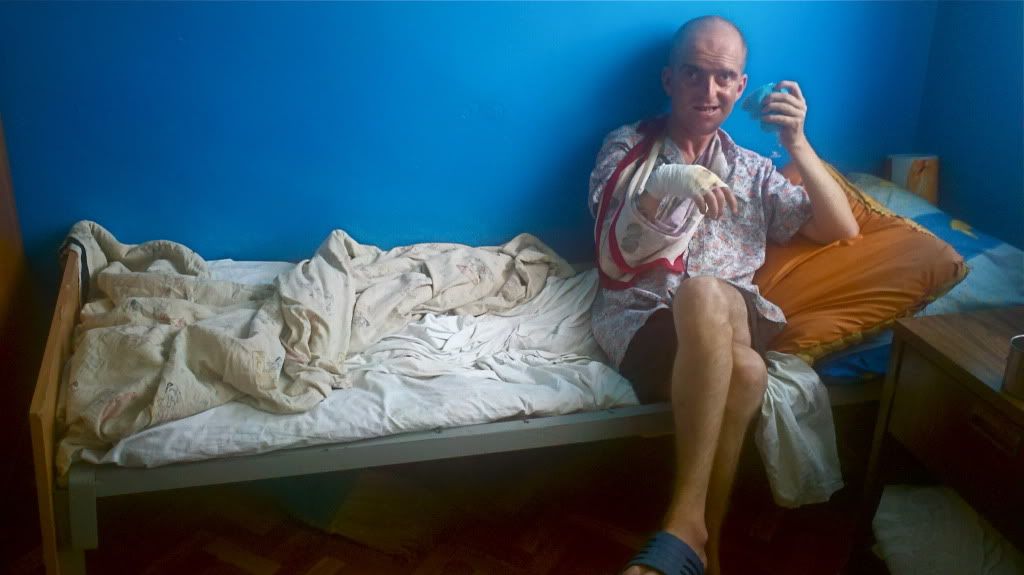 It was a long two hours.  You feel guilty for wanting to leave, but you get claustrophobic quickly as the overpowering smells and eerie sounds of the facility begin to weigh on you.  We left knowing that we did something good, though.  We gave these neglected people attention.  It's a commodity that money can't buy.  The toys we were able to deliver will stay behind as a reminder that somebody cares.  We toured the living quarters before we left and already we saw the stuffed animals we had brought stowed under pillows and in bedside cabinets.  
Money can help to alleviate some of the grief here.  But even more effective is Christian love and affection.  I know Nicole and I, and everyone who went with us, will spend a long time thinking about that experience.  Having seen it first-hand, it's impossible to say, "mission accomplished, what's next?"  Orphans and abandoned, mentally-disabled people will forever have a place in my heart - in Ukraine and around the world.  I hope these pictures and stories have inspired you to share that commitment.  These are truly God's children.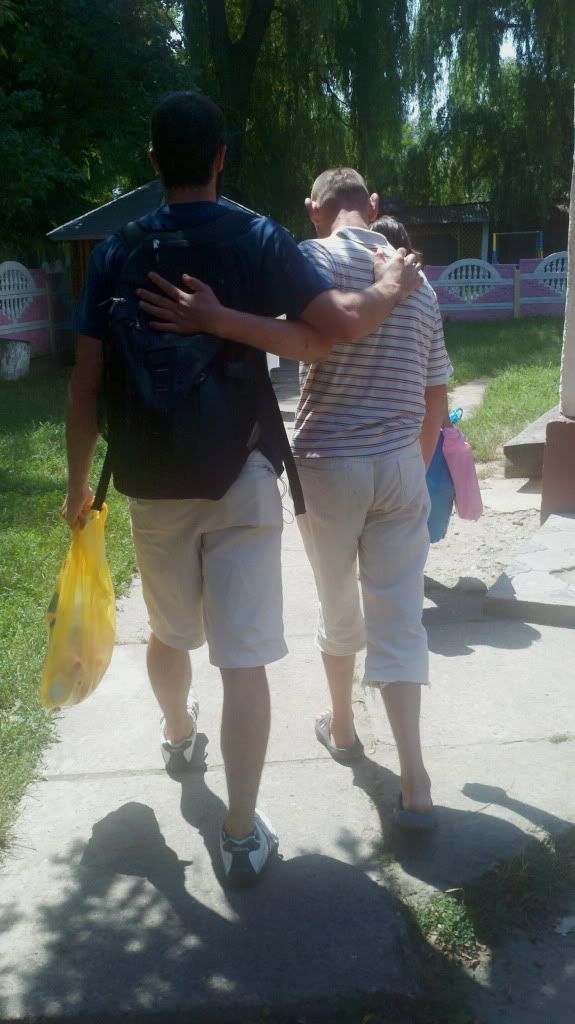 Russell & co.
A quick update
Hello!  If you check this blog now and then, you know that we have been in Ukraine for more than two weeks and have spent our time working at a Young Life camp, visiting orphanages and developing the tshirt business that employs orphans and Young Life leaders here.  But we've managed to get away and explore Ukraine a little.  Here are some pics and stories you might enjoy.
The three of us (Kyle, Nicole and I) frequent a cafe most mornings that is just a block away from where we work.  It's a nice little place and we like the staff there a lot.  We try to pick up new Russian phrases to experiment with on the baristas.  These employees aren't Christians, though they know that we are.  Last week a homeless man was rummaging through a trash can across the street and we decided to buy him some breakfast.  So we asked the staff to put some food on our tab and bring us the food in boxes to give to the man.  The staff was so impressed by that simple act of Christian charity that they wrote us this note on a napkin.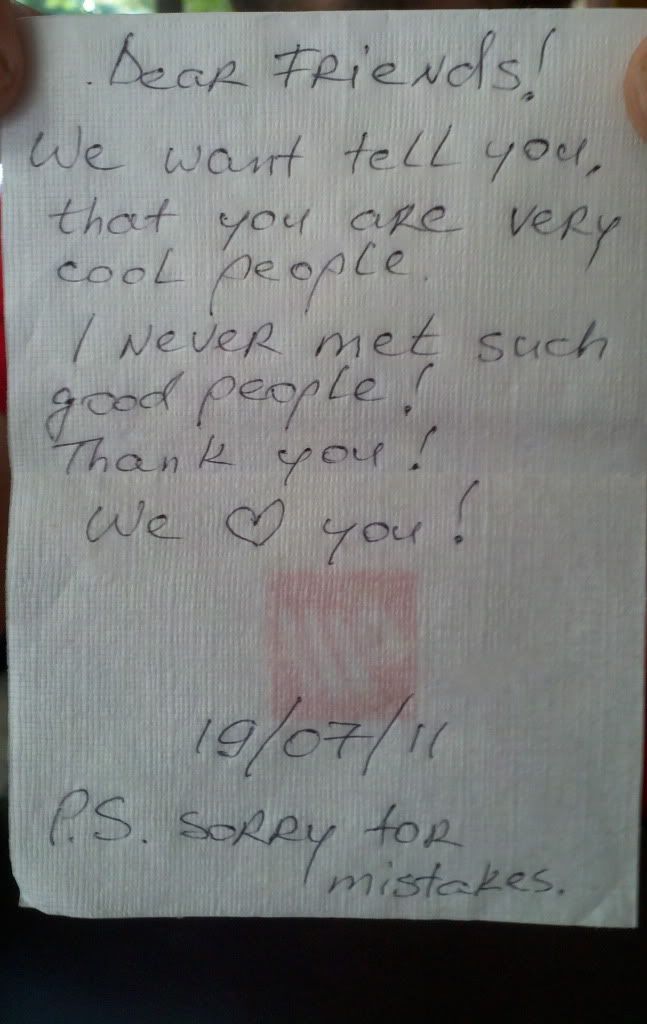 "Let your light so shine before men, that they may see your good works and glorify your Father in heaven." - Matt. 5:15
The three of us are super busy, but we stop to take a group shot now and then.  In case you've forgotten what the team looks like - this is us at an orphanage last week.  
We also made it to a castle just outside of Chernivtsi on Sunday.  It's 1000 years old and was held by the Turks for a while.  Pretty cool place and a nice break for everybody.  
We leave Ukraine in a week!  But there is a lot of work left to do.  Kyle is still teaching business classes to the tshirt company, Nicole and I are visiting the orphanage for the disabled children tomorrow, and I'm working to compile a video of the entire orphan situation in this country.  Hopefully that will be finished by the end of the trip.
Thank you for your prayers!  Look forward to a post from Kyle in the near future…
Russell
Update from Nicole
To all of Russell's adoring fans and readers,
Hello from Ukraine! This guest post comes from the lone woman of the group- the "mom" as the boys so lovingly call me.  Russell has given over the reigns of his blog so that I can give you all a little insight into my mission as part of Team Ukraine.  I must warn you, though, that I am not a blogger so bare with me, my grammar, and my run on sentences. 

My adventure to eastern Europe (or western Asia as Kyle insists on calling it) was first motivated by a trip made by my husband, Tyler, one year ago.  Tyler's business mind and entrepreneurial drive awarded him many amazing opportunities, but nothing could compare to the prospect of becoming an international businessman.  The trip was truly the chance of a lifetime- the opportunity to work with Younglife (an organization near and dear to both of our hearts) in the Former Soviet Union, training YL leaders in various skills to begin their own microbusiness.  Unfortunately, I would not be able to make the trip with him, putting an ocean between us for almost a month.  That said, we both knew he had to jump on the chance to get this kind of business experience.  So this time last year Tyler boarded a plane to Ukraine. I wont go into the details, but I will say that this trip turned into so much more than a business opportunity.  Tyler fell in love with Ukraine and with all of the people he had the pleasure of meeting.  He often mentioned how pivotal it was that the two of us visit the country together. 

The Lord's plan for our lives, though, was different from our own as Ty was called home to heaven May 27, 2011.  Eight weeks later not a moment goes by that I dont think about my dear husband and the day that changed our lives.  That said, the time I have spent grieving the loss of Tyler has motivated an immense amount of thankfulness to the God who allowed me to be a part of the life of a truly amazing man.  I had the opportunity to be loved by someone who knew what it meant to love people the way Jesus did, and who practiced that kind of love on a daily basis.  His heart for people was inspiring and humbling and I feel so blessed to have been cherished by him.  So as cliche or corny as it sounds, my trip to Ukraine is motivated by love. 

I purchased my tickets for this international adventure, motivated by Tyler's love for this country and its people and the opportunity to be a part of something that Tyler started in Ukraine. It turns out that this chance to be a part of Younglife in Ukraine has awarded me even more than the opportunity to be comforted in the memory of my husband and the legacy he left.  In working in the orphanages in Ukraine, I have been allowed the chance to be intentional about loving people the way that the Lord calls us to and the way that Tyler did.  My heart breaks for these children, but I feel so blessed to be able to love on them and show them how truly valuable they are to me and to the Lord.  I am eternally grateful to God for this opportunity and for the comfort and healing He has given me here in Ukraine.  What a blessing!  So with all that said, I leave you the link to the blog Tyler and Kyle wrote while in Ukraine last year (if you want the details of the trip) and a picture of Ty from the National University here in Ukraine.  What a good looking man my husband was! 

Love,
 Nicole
Tyler's blog: http://www.medesignllc.com/site/?page_id=1040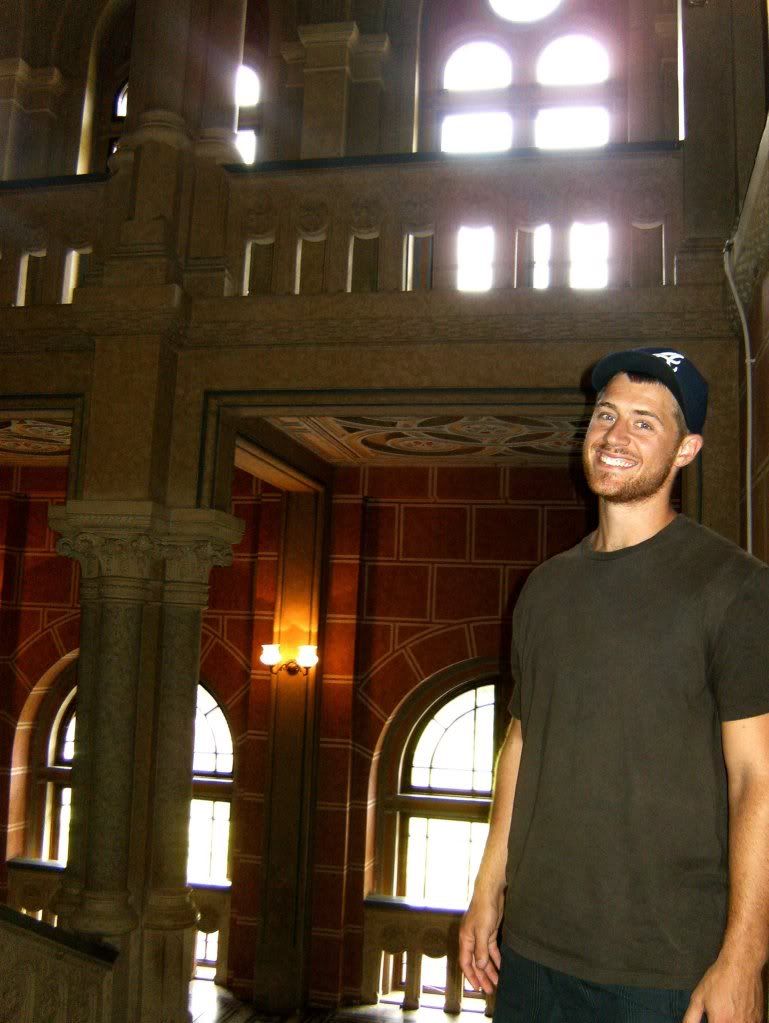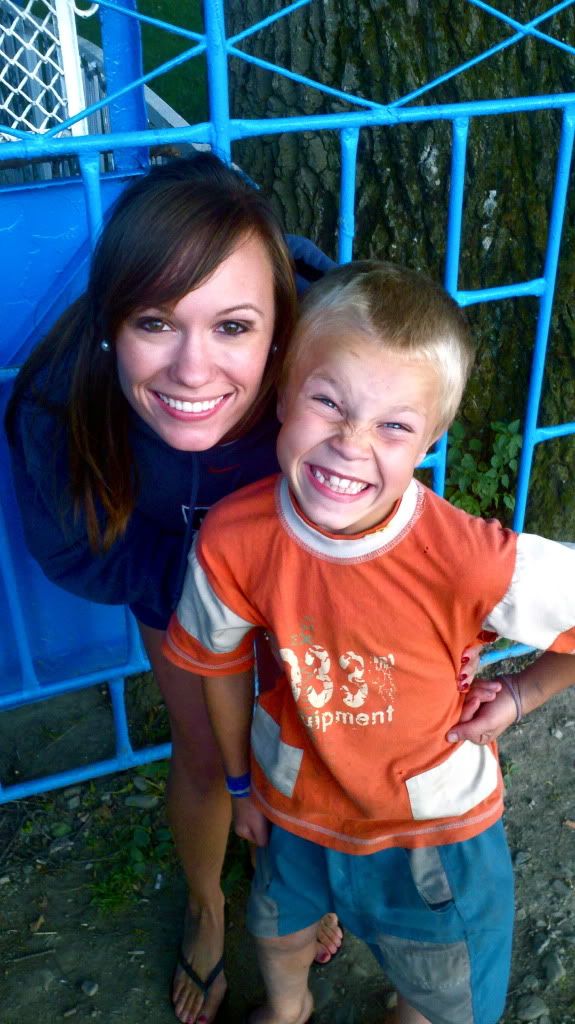 "for in you the fatherless find compassion"
You've never met kids so excited to show you how good they are at doing things.  They grab your hand, your leg, your shirt, anything they can, and literally drag you to what they want to show you.  Despite the fact that they jabber on in Russian, it's obvious that they want you to see them climb the tree and shake the apples from the branches.  Or they want you to watch them throw a frisbee or do a cartwheel or, in some cases, just exist.  Those are the kids that just hold on to your leg and don't let go.  These are all kids that have grown up never being told that they matter … by anyone.  I didn't know how to tell them that hundreds of people back in America care a whole lot and have given money and prayers to prove it.  So instead, I just spent the day caring.  And that's what our whole team did.  And I think it made a difference.
These kids loved cameras.  My camera left my hand after I had snapped two pictures or so and I didn't get it back for hours.  So these are all pictures taken by aspiring orphan photographers.  I hope you enjoy them!
The beard was a pretty big hit.  It was nearly ripped out in more than one wrestling match (Russell vs. five 90 lb, surprisingly strong little guys)
Nicole had a way with the quieter kids.  There were a lot of the quieter kids.
"We vant to shoot video!!"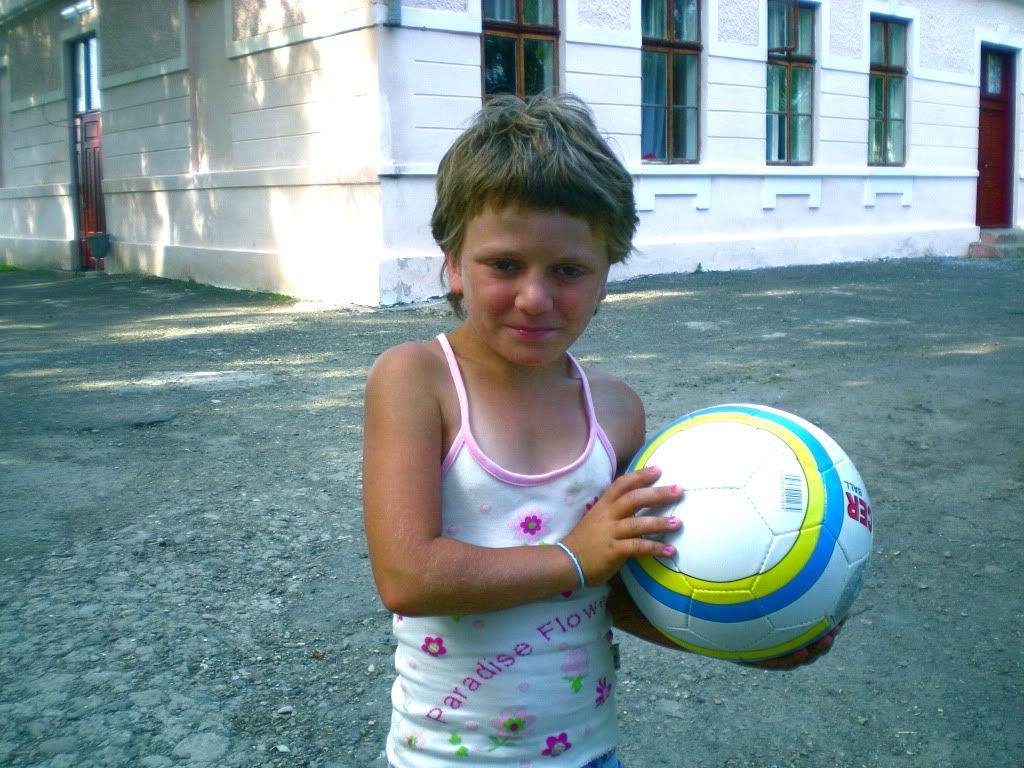 This little girl is actually ten years old.  You wouldn't know it because she's about the size of a 5 year old.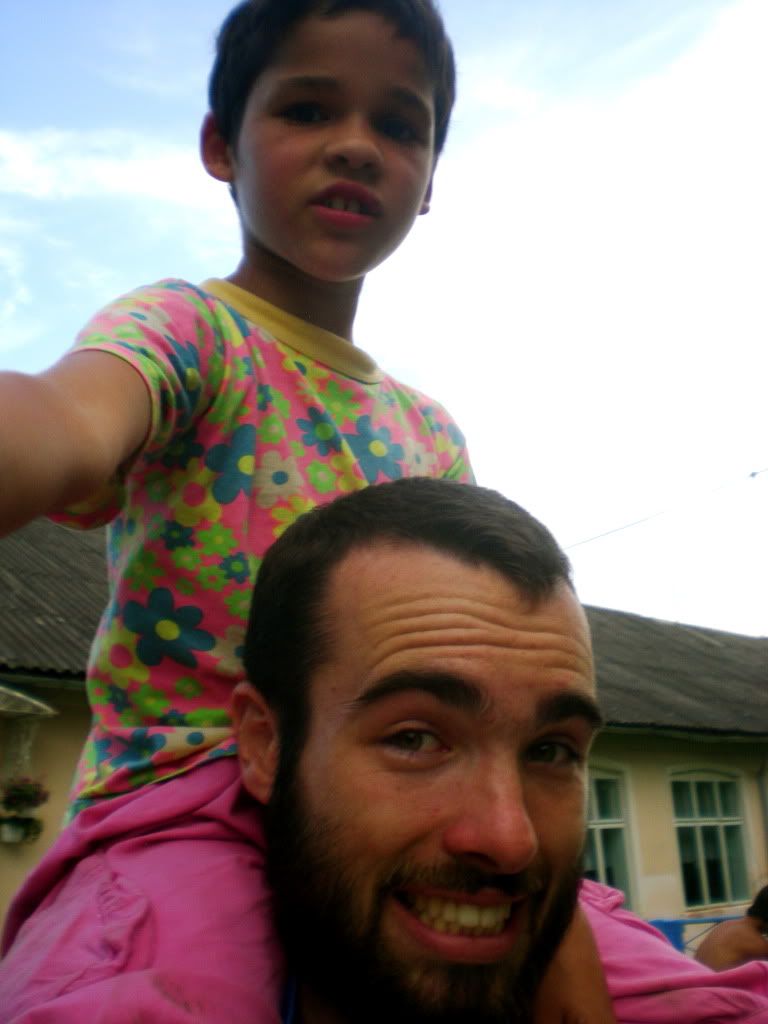 This is Nicolette.  She is at the bottom of the food chain here.  When I picked her up she had been pushed to the ground for the 10th time or so.  Kids take her stuff, won't let her play games, and bully her.  Even after she was on my shoulders an older girl kept hitting her.  I put an end to that, but Nicolette doesn't have a tall, bearded American to fend off the bullies all the time.  Girls like her get crushed in orphanages.
This was taken before Nicole let half of her hair get ripped out by girls who wanted to braid it.
This kid has a good vertical leap.  With a running start he could wrap his arms around my neck and drag me down backwards.  Kept an eye out for him all day.
So these are the orphans.  And there are hundreds of photos.  These kids are incredible.  It tears your heart out to know that the kind of day we just spent with them rarely ever happens.  People don't bring new toys or spend time just playing with them.  We'll be doing that all week.  Tomorrow is the water balloon fight - 750 balloons, 100 kids … I'll try to get a good video.  
We'll also be visiting the orphanage for the disabled children next week.  Check back in for that.  I've also asked Kyle and Nicole to make guest posts on here and share their stories about how they became involved in Ukraine.  Look for those in the next couple days.  Thanks again for the continued donations to YoungLife and for your prayers.  
God Bless,
Russell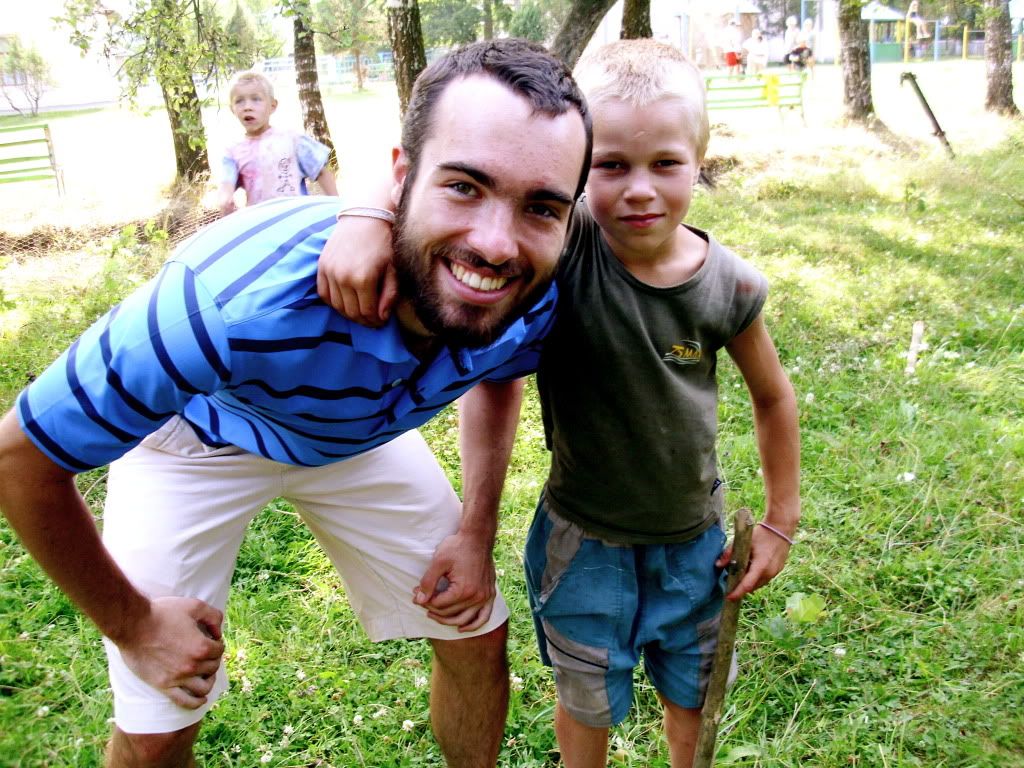 Small town Ukraine
I think I was overdue for a nickname.  It's been a long time since I was called "Brussell Sprouts" back in grade school.  Here in Ukraine everyone seems to get a nickname.  That might be because there just isn't a huge diversity of names!  Half of the guys are either named Sasha or Victor and the girls all seem to be named Natasha.  So to distinguish one Sasha from another there is a heavy use of nicknames.  
Mine is Boroda.  It means beard.  But apparently it's also slang somehow that is funny.  I keep trying to find out why it's funny and so far haven't received a straight answer.  But that is me - Boroda.  And I grant you, it makes sense.  This beard is ridiculous.
Nicole has so far avoided a sarcastic nickname.  When the three of us introduce ourselves to someone new it's always, "Rawsull?  Kuyllle?  Ohh, Nicole!"  Her name seems to make sense over here.  The closest she's come to a nickname is being called Team Mom by Kyle and I.  Her purse magically fits everything!  And this is Nicole modeling a classic neighborhood street in Ukraine.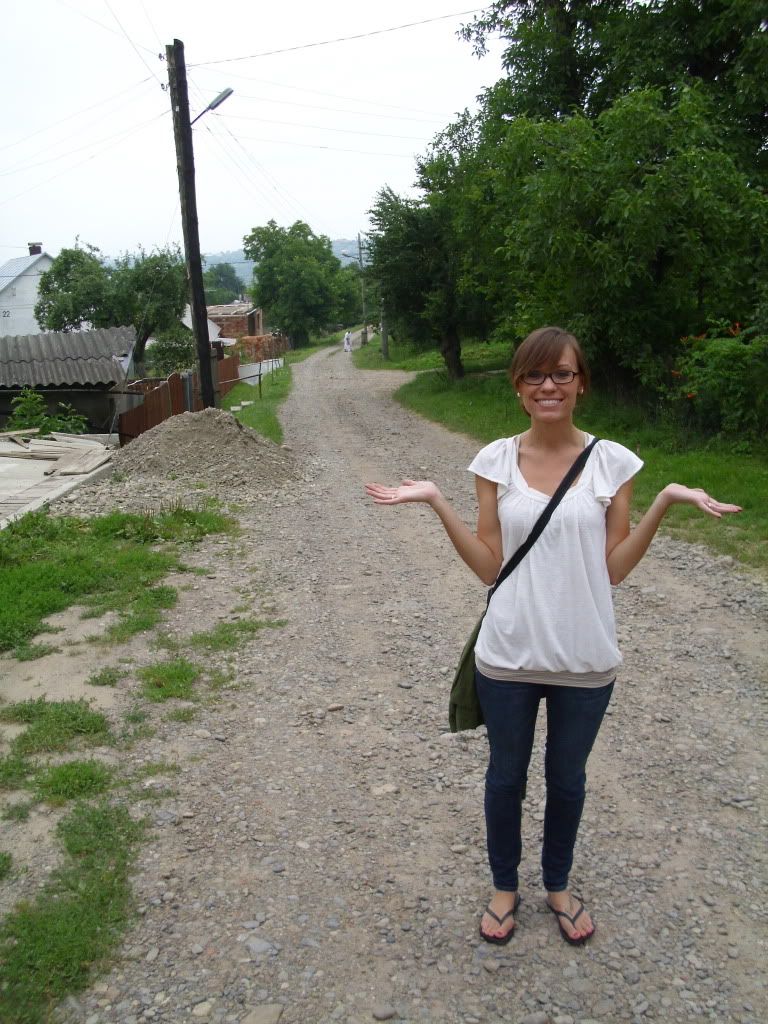 This week the three of us traveled to a Young Life camp out in the woods.  That is why this website wasn't updated sooner, there was no internet out there.  We found ourselves on the outskirts of a village that looked like it was straight out of the 1940's.  On my early morning run the first day I saw little kids with switches guiding cows right through the cobblestone streets out towards the fields.  There were roosters crowing, old men sitting on wooden chairs smoking pipes, and shawl-covered women walking around with whicker baskets.  It was like the Germans had just left.  This is me hanging out with a horse drawn wagon.
The camp itself was originally built by the Soviet Army to train what was described to us as "legit boyscouts".  It was a camp for boys to learn military discipline.  Needless to say - the camp was lacking a few amenities you would expect at a camp in America.  But then again - it's a camp.  Pampered American children value showers and good food too much.  These Ukrainian high schoolers learned to have fun and be tough at the same time.  
Of course our hosts wouldn't let us partake in the true grit form of camping.  The three of us were put up in a plush cabin that was outfitted with a kitchen and bathroom.  I don't think any of us were prepared to protest.  Though I will mention that the fridge was operated by some sort of air compressor engine that would put a lawn mower to shame.  
Having never been to a Young Life camp in America, I can't compare the two.  But I was amazed the whole time to see Christians on this side of the world singing the same songs we do, but in Russian.  Every night there was a powerful gospel message presented to 160 Ukrainian children who had never heard it before.  By the end of the week, more than 10 that I saw professed the Faith.  As a fly on the wall, watching the whole process in a different language, a thousands of miles away from everything I've ever known, it was encouraging to see that Christianity isn't merely an American pastime.
That said, camp was hysterical.  They had a line dancing event one afternoon.  Listening to "Oh Johnny Oh!" sung in a thick Russian accent was classic.  Seeing 160 Ukrainian kids jumping and dancing to Miley Cyrus's "Party in the USA" made me proud to be an American.  There were also kids wearing every American sports team shirt you can think of - Lakers, Cowboys, Yankees, Bulls, you name it.  
We have a lot to accomplish this week - including visits to both the orphanage that Young Life supports and a state-run orphanage.  These trips have been delayed twice, but I'm optimistic will happen soon. 
There are a lot of good stories that didn't make it into this update but that I'll group into others in the near future.  This last picture is a taste of Ukraine's backcountry (and I swam across that river and back, for the record)
Also, for anyone who enjoys reading travel blogs and adventure stories, a few links to check out:
http://espn.go.com/espn/eticket/worldtriathlon
I'm in Ukraine but I can't help but ponder what the next ridiculous adventure might be.  
That's all for now.  Love from Ukraine….
Russell & co.
Ukraine
So it's been a couple of days since I could update this website but after three plane trips and a miserable 15 hour train ride through the night, the team is in Chernivtsi, Ukraine.
I think that spending the first 40 days of the summer sleeping in the worst conditions imaginable has prepared me for this trip.  The noisy, bumpy train was at least not infested with insects or snakes and I had some semblance of a pillow.  And sure, there was a somewhat larger woman in the bunk above me, but she didn't speak English and we managed to live peaceably in extremely close quarters.  
The three of us are becoming a traveling machine.  At different times a different member of the team will come through in a tough situation - Kyle has good local knowledge of Ukraine and public transit, Nicole has an uncanny ability to find things, and I know how to push a car out of a one-way street when it won't shift into reverse.  We'll be bouncing around the region here for the next three weeks, keeping our traveling credentials up to date.  
Each of us has a special reason for being here.  The other two have stories as compelling and personal as mine - but for me, landing in Ukraine and then arriving at YoungLife headquarters here was very significant.  Definitely hard to believe that 57 days ago was day 1 of 3000 Miles for Ukraine - it was just a picture of me, the bike and the Washington Monument.  Now after a week of unexpectedly arduous travel, the last leg from San Diego to Ukraine is finished.  
So here is today's bookend picture: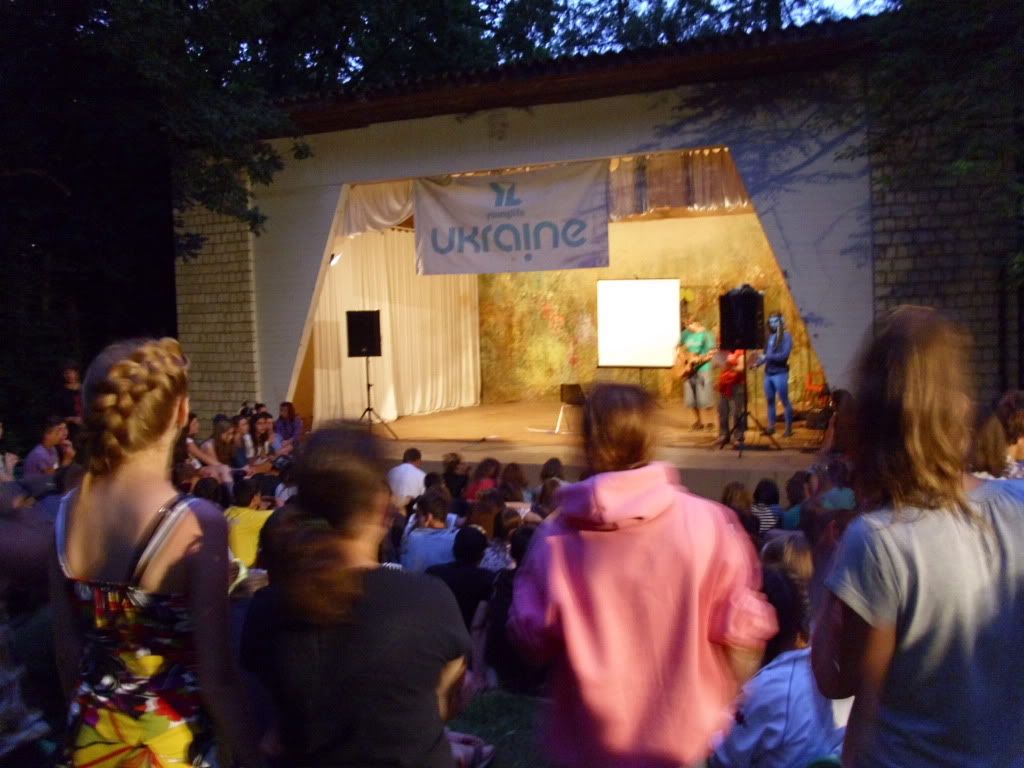 We will be heading to a camp for the orphans later in the week and I will post pictures and stories soon.  In the meantime, the team is resting up for a few hours tonight before hitting the ground tomorrow.
From Chernivtsi, Ukraine…
Russell
I hate to break it to yah
The San Fermin Festival, which is highlighted by the running of the bulls, is not quite as mythologically awesome as it's said to be.  Supposedly it is a cultural tradition dating back hundreds of years that showcases vibrant Latin heritage and masculinity.  Let's just say that may have been the case once, but what the three of us found was less of a festival and more of a drunken disaster.  I mean, we had fun in Pamplona, we did, but it was not exactly what we expected.
We all headed into the streets early on Thursday morning to run with the bulls.  But the streets were piled high with garbage - beer bottles, trash and even people lying here and there sleeping off the partying of the night before.  I found one intoxicated Spaniard who seemed to speak some English and asked, "where do we go to run with the bulls?"  He grabbed my hand and slurred, "No! No! We dance in the streets and sing!"  Thanks for the help, amigo.
After some searching, and wading through mounds of garbage, we found the alley where the bulls would run.  It was jam packed with people and Nicole left to find a perch to watch from.  Unfortunately, I got forced out of the alley with about 500 drunk hooligans that the Police pushed out because the alley was too crowded.  This sober American was a little upset about that, but I've learned that pity parties never made anyone feel better.  Oh well.  Kyle got to run and I found a place to watch from.  
The whole festival was an experience.  It was one of those events where you constantly catch yourself just staring at sites you didn't think existed on this earth.  And ultimately it was totally worth it, if only to get this picture…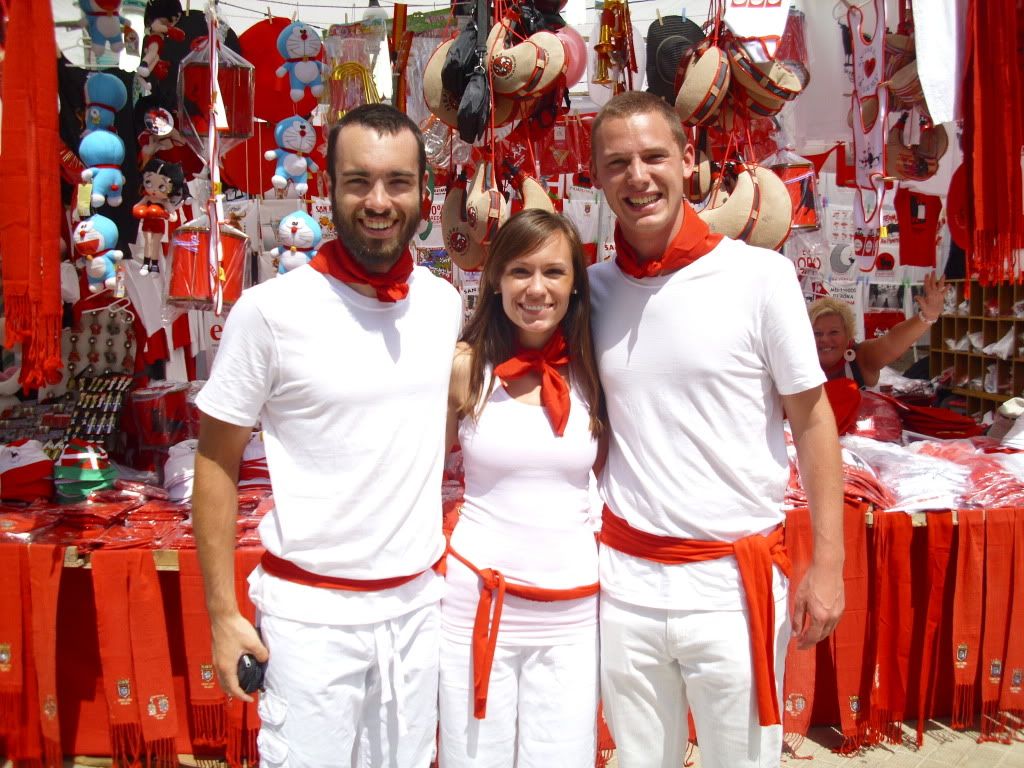 We rocked the San Fermin Festival attire with the best of them.  All that to say, we survived Pamplona…somehow.
From Pamplona…
Russell
Day 40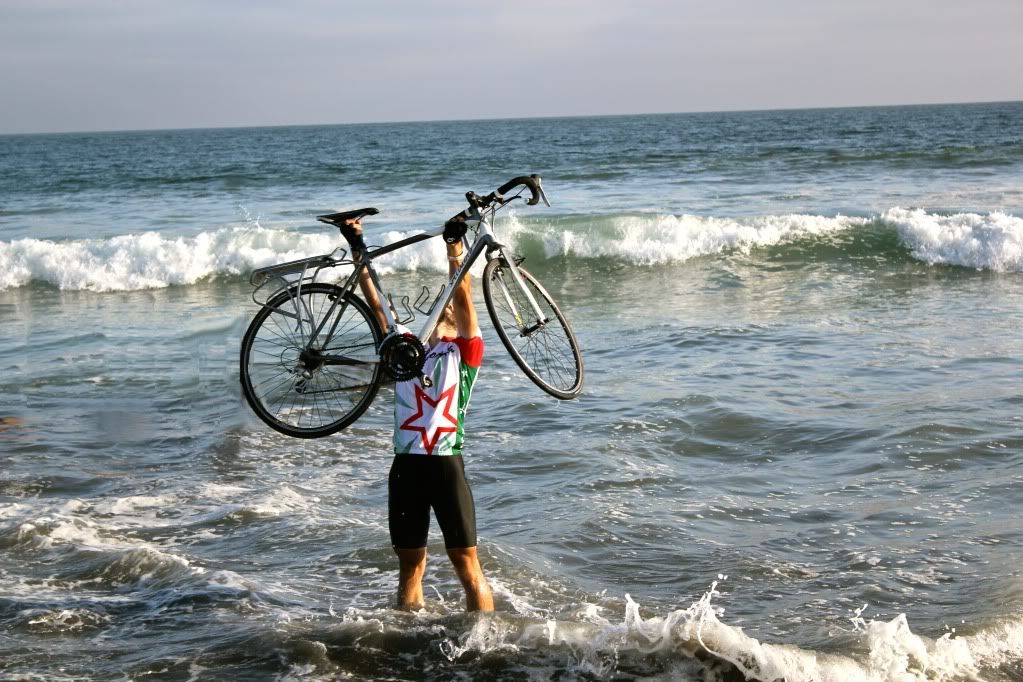 I'm not sure if it's writer's block or if I am just so emotionally strung out that words aren't coming to me.  This may be the most difficult writing assignment in history: "recap the 40 most life changing days of your life and try not to gush…"  I guess the plus is I don't have to write this from my phone!  So here goes nothing.  I'll break this into parts for your reading comfort - Part 1: all about the last day (complete with news coverage!), Part 2: I'll gush juuuust a little (and put up the news interview that hasn't been posted anywhere else until now!), and in Part 3 I'll share some exciting updates about the future of this journey and how you can stay involved.
Part I - Day 40!
2:30am alarms are the worst, but I was already awake.  I'm not saying I hopped out of bed with a lot of energy, but my eyes were pretty well propped open with anticipation and had been for a while.  The box of Wheaties I had purchased the day before was quickly polished off (not that I believe Wheaties are necessarily all that great - I'm just easily sold on advertising campaigns…I want to be a champion!) and I set to work retooling my bike for the last 120 miles of the trip.  
And another day of mountains, deserts, wind and sun began…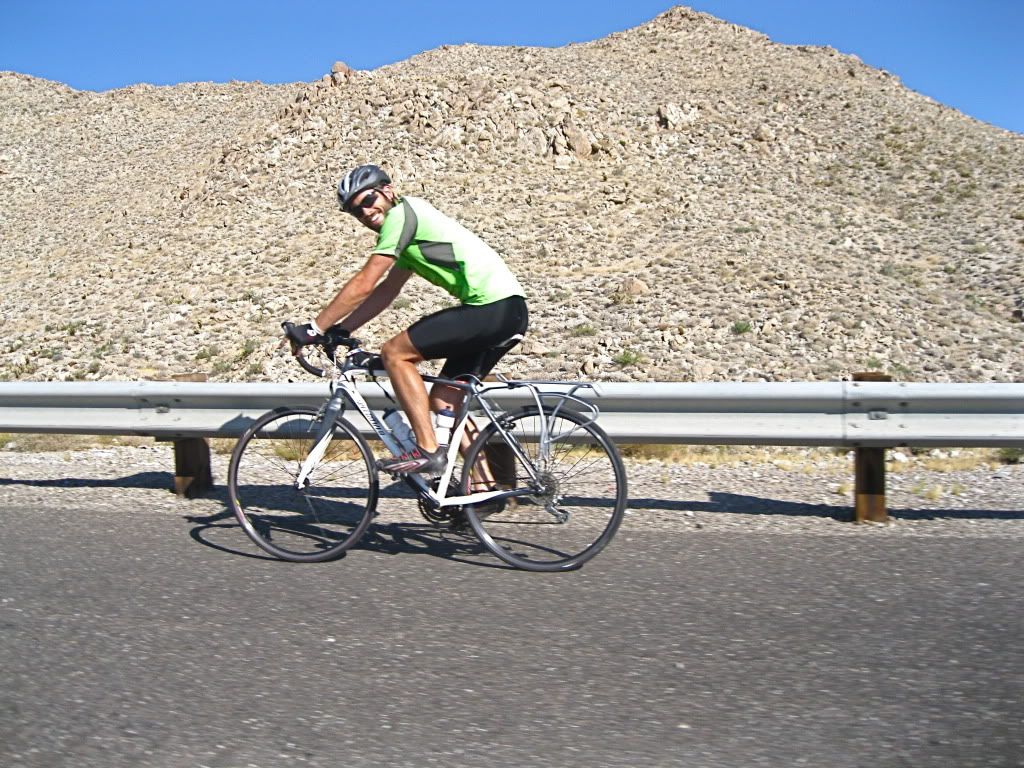 I actually met up with my dad (and round the clock navigator / moral supporter of the last 39 days) and sister (the one who has been helping me with this website!) about 100 miles from the beach and we leap frogged all the way to the coast.  They'd go 20 miles and wait for me with gatorades and then take off and let me chase after them again.  Family are those who will spend an entire day waiting for a biker to pull himself 20 miles just so he can have a cold drink and company.
Long story short, after pedaling across … 9 states?  We got to this picture:
There were a lot of highlights today - seeing family, catching an early glimpse of the Pacific, crossing the San Diego County line, sharing this story on the evening news, seeing so many family friends waiting at the beach.  When I started 6 weeks ago I envisioned a family "welcome home" thing at the beach.  But a long time ago this trip became bigger than me pedaling.  In fact, my incessant complaining about how much pain I was in may have distracted from the real story at times.  The real story has been about lots of things - the generosity of strangers, the depth of common people, the power of being friendly, the awesomeness of God…  And to be honest, a trip this big couldn't have earned a more climactic last day - challenging but packed with anticipation and one big reward at the end: completion.
Without further ado, here is the evening news coverage of the touchdown on the beach:
Part II: Perspective
It's over…what happens now?  Well in the immediate future (the next 3 days) I need to fix myself.  Too many physical maladies to describe here - joint pain, pressure points, muscle fatigue, exhaustion and a beard that miiight need to be shaved…we'll see…I'm open to opinions.  But more than that, this trip was life-changing on lots of levels.  I'll be spending time recuperating and processing exactly what just happened.
Additionally, I dedicated the last 40 days of this trip to a ministry in Ukraine that I have yet to see with my own eyes.  I will be traveling there next month to work with them.  This picture was sent to me yesterday and to be honest it means as much to me as any Pacific beach ending.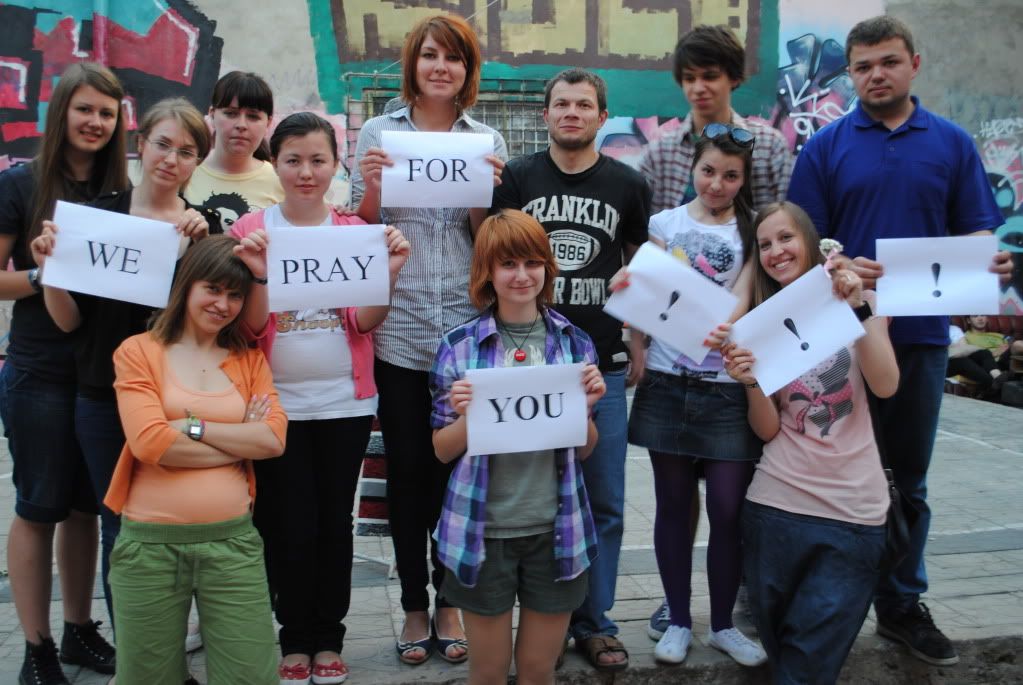 [picture is a mixture of YoungLife staff, their Ukrainian Colleagues and kids that YL takes care of]
So that is how I prefer to "conclude" the trip.  It's not over, it's just the start of the next challenging chapter.  I will continue to post updates about my travels this summer and I hope you will check back once in a while to see how God is working in Ukraine.
Check out the early morning interview on KUSI!  
Part III: The Book???????
I've already said that I had no idea what I was doing when I started this journey.  No idea what was in store, what I would see, who I would meet or even really where I was going.  I certainly had no plans of ever writing a book.  But due to the encouragement of so many people I am beginning to research the possibility of undertaking yet another endeavor that I am wholly unprepared for!  This summer I will go through the process of contacting publishers and drafting the story.  I envision this book as being a whole new adventure to itself - one with impossible challenges that can only be overcome with God.  I would also love to continue raising money for the ministry in Ukraine with its proceeds!  But we're getting ahead of the game here.
The updates on this site have been the cliff notes of the actual story.  If you would be interested in seeing the full story in print someday (soon??) - just submit your email email below and you'll receive updates as they happen!  I have no idea if the book will ever become a reality, but you can get anywhere one step, pedal stroke or word at a time.  It's all about putting your head down, setting a goal and gritting your teeth until you accomplish what no one said you could.
And that is it for now!  Thank you for taking this journey with me.  Until next time - 
From San Diego, CA…
Russell
Sign up for the email updates about the book!
ps - I will leave the donate feature up on this website until the end of the week.  Thank you for all of your support, I know it means the world to the kids in Ukraine.
Welcome to the Russell-Tracker 1.0
12:40 PM - Russell and company spotted in Campo.
1:40 PM - Passed through Barrett Junction.
2:20 PM - Winding through Dulzura.  Only 30 miles left!
Current ETA, 6pm.  Plan on joining Russell, his team, and supporters at the beach anytime from now through his arrival!  Directions, etc, can be found in the preceding post.
Last Great Day!
Editor's Note:  This is your faithful editor (Russell's dad) with an update.  Russell is sitting in balmy Jacumba with his road support team (sister Mary and his father), resting after getting up Hot Springs Grade and chugging Gatorade fast enough to cause a bump in his stock options.  It was two hours with a brisk wind in the face from El Centro to Ocotillo, riding a bicycle that, Ray Bradbury-like, seems to have a mind of its own bent on obstructing the human race with annoying mechanical issues.  Link-up with the support team took place in Ocotillo as first light broke on the desert panorama, followed by two more hours of persistent effort to reach gorgious downtown Jacumba.  It is 9 AM, and barring serious breakdowns, medical emergencies, or obstructions from packs of ravenous coyotes prowling Hwy 94 searching for boney bikers to eat, Russell will definitely be dipping his tires in the beautiful Pacific waters today at Coronado, CA.  Amen!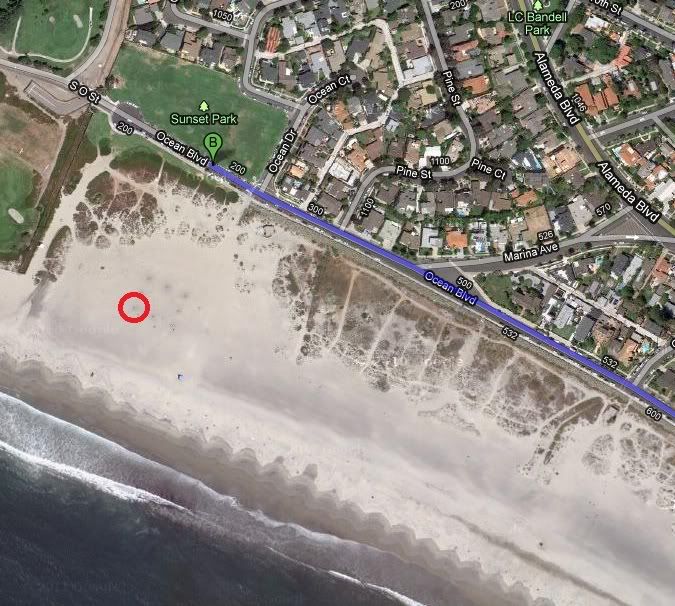 Above: Location for the beach-reception.  East-most fire-pit, Coronado Island, across from Sunset Park.  See you there!